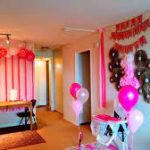 When it comes to birthdays, you don't always want to spend your hands and feet on decorations. And sometimes you want something more personal and unique ways to celebrate your loved ones. When you're planning for a birthday party, you'll want some simple birthday decorations at home to make sure everyone has a celebration feel.
Birthdays are associated with cakes, flowers, and many birthday gifts. If you are planning an indoor party, below are some birthday decoration ideas at home. From things you can do with balloons to party themes, we've got tips on how to decorate an easy and fun birthday room with birthday room decoration ideas.
Happy Birthday Decoration Birthday Banner
The first element of birthday party decorations at home is the birthday banner. Stick a simple Happy Birthday banner or create a fancier option that says something like Aman's Sweet 16 or Sia's Dirty Thirty - your whimsical thinking decorations are sure to get you compliments. If it's your kid's birthday, you can surprise him with this decoration and order cakes for him via cake delivery in Gurgaon.
Balloons with Tassels
You can do birthday decorations at home with balloons. Balloons filled with helium can also be decorated with paper tassels on the bottom. So these paper tassels are easy to make by cutting a bit of crepe paper at the bottom and string to tie at the top. And you can use color combinations to add color or match your birthday theme. Well, here's one way to decorate a birthday party.
Wall Decoration for Birthday At Home
In every house, the walls immediately catch the attention of the guests. Do a birthday decoration at home wall by using a photo background. In addition to balloon decoration at home, walls can be decorated in various ways. You can decorate with paper flowers or a large collage of photos or make a wreath from these photos and hang them with magic fairy lights. To buy high-quality and fresh flowers, you can opt for online flowers delivery services.  Decorate the walls with crystal curtains. Use washi tape to turn a simple wall into a colorful design. Hang the strip on the wall with a glossy finish in contrasting colors like gold and white.
Cookie Cutter Birthday Candle
Impressive enough to make your own birthday candles. But adding a touch of whimsy with your favorite cookie cutter is magical!
Flower Arrangement
No, you don't have to spend half your salary on flowers for every birthday party. Instead, turn a simple flower selection by using cheap flowers and online cake delivery in India.
Woven Pom Poms As Birthday Decorations
A quick online search will show you how to make cute pom-poms that also double as great birthday decorations. All you need is a tablecloth and time available - do these pom poms once and they will keep you going to lots of parties.
Photo Number Birthday Decoration
Photos are the best way to live someone's life and if you are planning a surprise for a birthday or a children's birthday party, this form of simple decoration for birthday party at home will steal the show. So you can put it on cardboard or just use a blank wall as a canvas for gluing. For an extra personal touch, you can use a color scheme like black and white.
Ideas for Decorating Flowers for Birthdays At Home
Fresh flowers instantly cheer up any room with their charming textures and vibrant colors. This is one of the simple birthday decoration ideas at home. Adding fresh flowers to the party room gives the party space an organic and green touch that everyone can admire. When it comes to colorful walls or cubicles or midsections, there is a wide range of colors and flowers. You can choose your own distinction or combine flowers with funky accessories for an interesting birthday decoration at home. For a traditional theme, choose marigold, tuberose, mogra, and more.