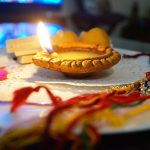 How To Celebrate Rakhi When You Don't Have Siblings
It's always great to have a brother and sister around on the occasion of Raksha Bandhan. They make you feel alive and start your world in unimaginable ways. However, having no siblings also means that you can play PlayStation and eat pizza alone without worrying about sharing space. Most importantly, the TV remote control belongs to you only.
Why Celebrate Rakhi?
When we talk about how to celebrate rakhi, it is the eternal love between brothers and sisters that is the essence of this holiday. The affection between brothers and sisters is priceless. Brothers and sisters are your best friends. They are one of your earliest human personal diaries and your best advisors when you need them. Known as "Raksha Bandhan", the word "Raksha" means protection, and the word "Bandhan" means bond.
On Raksha Bandhan, a sister ties a rakhi to her brother's wrist and prays to God for his good health and prosperity. This is how is rakhi celebrated. The Rakhi is a sacred thread, symbolizing your desire for prosperity and happiness. Sisters also give some gifts and combos to their brothers like cakes, flower combos, sweets, etc. The excitement and preparation about Rakhi may be hard to ignore, especially if you currently live in North India.
However, although the rakhi festival can be very exciting if you have a sister or brother, it can be a bit bad if you don't have a sibling. Don't worry, we have already provided you with protection. Even if you have no siblings, we will share with you some wonderful ways about how to celebrate Rakhi Bandhan. So sit down and take notes.
Celebrate This Day With Your Friends Forever
Want to know how to celebrate rakhi festival without siblings? You can celebrate this day with your best friend or friend by connecting the sacred thread of rakhi with them. After all, the Rakhi thread means protection, your friends always support you and are there for you whenever you need it. So by tying them to the rakhi, take your connection to the next level.
Celebrate with The Soldiers
You can celebrate Raksha Bandhan with those who protect us at the border. You can visit the nearby local military office or the army to celebrate the Raksha Bandhan Festival. Many girls go there to tie the sacred Rakhi thread to the wrists of the soldiers because it is they who protect us from external evil forces. You can also send flower online for them along with rakhis. Celebrating this festival with the army, you will really feel great.
Solo Travel
This has been on your schedule for a long time. You have been planning your dream solo trip, but for some reason, it keeps being canceled. Take a few days off after Rakhi, and do this time. Give yourself an unforgettable trip of a lifetime.