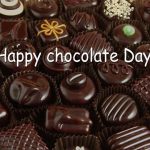 The February month is named for love and companionship. From Rose Day to Valentine's Day, each day is celebrated with enthusiasm and zeal. So, if you are a romantic person who is eagerly waiting for the love week, then make it extraordinary with roses, gifts, and of course, with chocolates too. Well, after celebrating the Rose Day and Propose Day, now it's time to celebrate Chocolate Day. It is one of the most awaited days of the Valentine week. People of all age groups wait for Valentine Chocolate Day to give and receive a box full of love and sweetness. After exchanging Propose Day gifts, you can stir sweetness in your romantic relationship on Chocolate Day.
When is Chocolate Day
Happy Chocolate Day Date 2020 is 9th February and the day is Sunday. It falls on the third day of Valentine week. Every year, Chocolate Day is celebrated by offering special valentines Day chocolates to near and dear ones and wish them a very happy chocolate day. Celebrating this day also has a special meaning in a romantic relationship. No matter how old are you, you can express love for your partner just after offering Rose Day flowers and Propose Day gifts. Indulge your sweetheart in the sweetness of your pure love on such a special day on 9th February i.e. world Chocolate Day 2020 and cherish the moments to the fullest.
Why Chocolate Day is Celebrated?
International Chocolate Day 2020 looks forward to sweetening your bond and make you create sweet memories of this day to be cherished for the whole year. The significance of celebrating the Chocolate Day in Valentine's week is Chocolates are the all-time favourite of everyone that can soothe the recipient's soul and make them feel your love deep inside. Therefore, you can delight your loved ones by offering a bunch of chocolates as a token of love. The mind-boggling taste of chocolates makes expressing love easier for you. Its amazing taste faints everyone. You can wish a Happy Chocolate Day to your darling ones with delectable chocolates and expect their love and appreciation in return.
Not only that, but delectable chocolates also have amazing health benefits that make it more acceptable as a gift. Chocolates spread positive vibes, enhance mood, improve memory, keep the heart healthy, make everyone feel happy, and many more. Keeping these benefits in mind, you can gift chocolates coupled with flowers, plants, greeting cards, rings, etc. on Chocolate Day in Feb. As chocolates speak your heart, you can make the Chocolate Day happy for girlfriend, boyfriend, etc. by confessing your love in a super romantic way.
Moreover, 9 February Chocolate Day is world-famous for sweetening and strengthening your relationship, and look forward to happy and healthy love life together. So, to ignite the spark of never-ending love and romance in your relationship, ensure you have picked Chocolate Day special chocolates such as chocolate bouquet, homemade chocolates, chocolate boxes, hampers, etc. Choosing the best chocolates for Valentine's Day will be a sure-fire way to pamper your special ones and take them to the beautiful world of love.