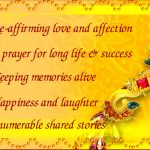 On the Rakhi occasion, the sisters tie "Rakhi" to their brother's wrist. The promise is always there and always celebrated, no matter what the circumstances. The Rakhi thread is considered divine because it reminds one of a brother's promise to his sister that he will always protect her.
Rakhi Meaning in English
The name Raksha Bandhan or rakhi meaning in English "protection bond", which means a commitment to protection.
Rakhi, also known as Raksha Bandhan,  is a significant Hindu festival celebrated in India. The word "rakhi" literally translates to "a thread of protection" in English. It signs the bond of love, trust and protection between brothers and sisters. During this festival sisters tie a sacred thread, known as rakhi, around their brothers' wrists, and in return, brothers offer gifts to their sisters. It is a beautiful festival and strengthens the bond of siblings. It is a joyful occasion that brings families together and promotes unity and love among loved ones.  
In this blog, we will discuss the history of Raksha Bandhan and its importance.
Raksha Bandhan History
Like most Hindu rituals, Raksha Bandhan has its origins in Raksha Bandhan's history and mythology. The story behind the Raksha Bandhan is that when Lord Krishna accidentally cut his finger on his "Sudarshan Chakra", Princess Draupadi cut a piece of her saree and tied it to his Stop bleeding on the finger. Lord Krishna was deeply touched by this gesture, and he promised to protect and cherish her forever. This is a brief story behind Raksha Bandhan. The Raksha Bandhan festival falls on the full moon day of Shravan. People from all over the world celebrate the Festival with great joy, gifts, and selfless love. On this day, distant sisters also opt for rakhi and Flower delivery in India.
Importance of Raksha Bandhan
The story behind Raksha Bandhan is mainly the concept of protection. We usually find people going to the priests in the temples with a holy thread tied to their hands. We found this at the Kala Bhairava Temple in Varanasi, where people tied a black thread to their wrists. Similarly, at Shri Vaishno Devi Temple in Jammu, we found that people wear a red band on their foreheads after worshiping the goddess.
When we talk about Raksha Bandhan importance, the celebration of Raksha Bandhan goes beyond its traditional customs. On this day siblings buy rakhi online and gifts to delight them. Not only the sisters, but the elder brother also tied a Rakhi on his sister's wrist and found the best Rakhi gifts for sisters to ask them for protection. Women tied the holy thread to the soldiers' wrists, and they protected our country's borders day and night.​​ In some places, people tie Rakhi to trees because they selflessly provide us with shelter, food, and fresh air, thus protecting our lives.
Significance of Raksha Bandhan
The significance of Raksha Bandhan is, this Festival is regarded as a symbol of pure love between brothers and sisters. This occasion is to celebrate any sibling relationship between men and women who have no biological relationship. Over the years, this day has gained more meaning. It not only symbolizes the love between brothers and sisters but also symbolizes the harmony of the community. It is also used by environmentalists to save trees. This day ultimately represents love and compassion. This is all about the importance of Raksha Bandhan. Moreover, kids also feel very excited about this festival and went to get fancy rakhis and gifts from their younger siblings. That's why people are also looking for the best kids rakhi online to make their kids feel happy on this special occasion.
On this happy day, don't forget to bless all your brothers and sisters and make their day more special. We hope with this post you the festival of raksha bandhan importance and history.